Agricultural Data Modules
China has a vast territory with diversified climate and frequent natural disasters. The agricultural production distributes extensively, with complex categories and varieties of crops and large differences in farming systems. It is difficult to accurately obtain relevant data through traditional methods, and the future of agriculture is bound to develop in the direction of large-scale, standardization and low manpower. In the process of production and planting, the demand for dynamic, large-scale, rapid and timely spatial information data is emerging.
TerraQuanta utilizes satellite remote sensing combined with independently developed AI algorithms to provide cost-effective data products for agricultural production, such as precise identification of crop types and continuous monitoring of their growth process. In the fields of wide-area planting management, rural financial risk control, agricultural insurance and so on, we assist customers to carry out continous crop growth monitoring, meteorological monitoring, disaster analysis and other services, so that we can capture the growth status of agricultural resources and crops without remote sensing professionals, and make agricultural production more controllable.
Cultivated Land Resource Monitoring​
Core Index​
| Technical Index | Data |
| --- | --- |
| Data Format | Raster |
| Spatial Resolution | Max: 0.5m, Standard: 10m |
| Time Resolution | Max: Month, Standard: Quarterly |
| Servicable Area | Global |
| Service Mode | SDK, SaaS, WMTS |
| Main Data Source | TerraQuanta Multi-source Spectrum Input (TMSI) |
Cultivated Land Change Monitoring​
Core Index​
| Technical Index | Data |
| --- | --- |
| Data Format | Vector |
| Spatial Resolution | Max: 0.5m, Standard: 10m |
| Time Resolution | Max: Month, Standard: Quarterly |
| Servicable Area | Global |
| Service Mode | SDK, SaaS, WMTS |
| Main Data Source | TerraQuanta Multi-source Spectrum Input (TMSI) |
Plot Extraction​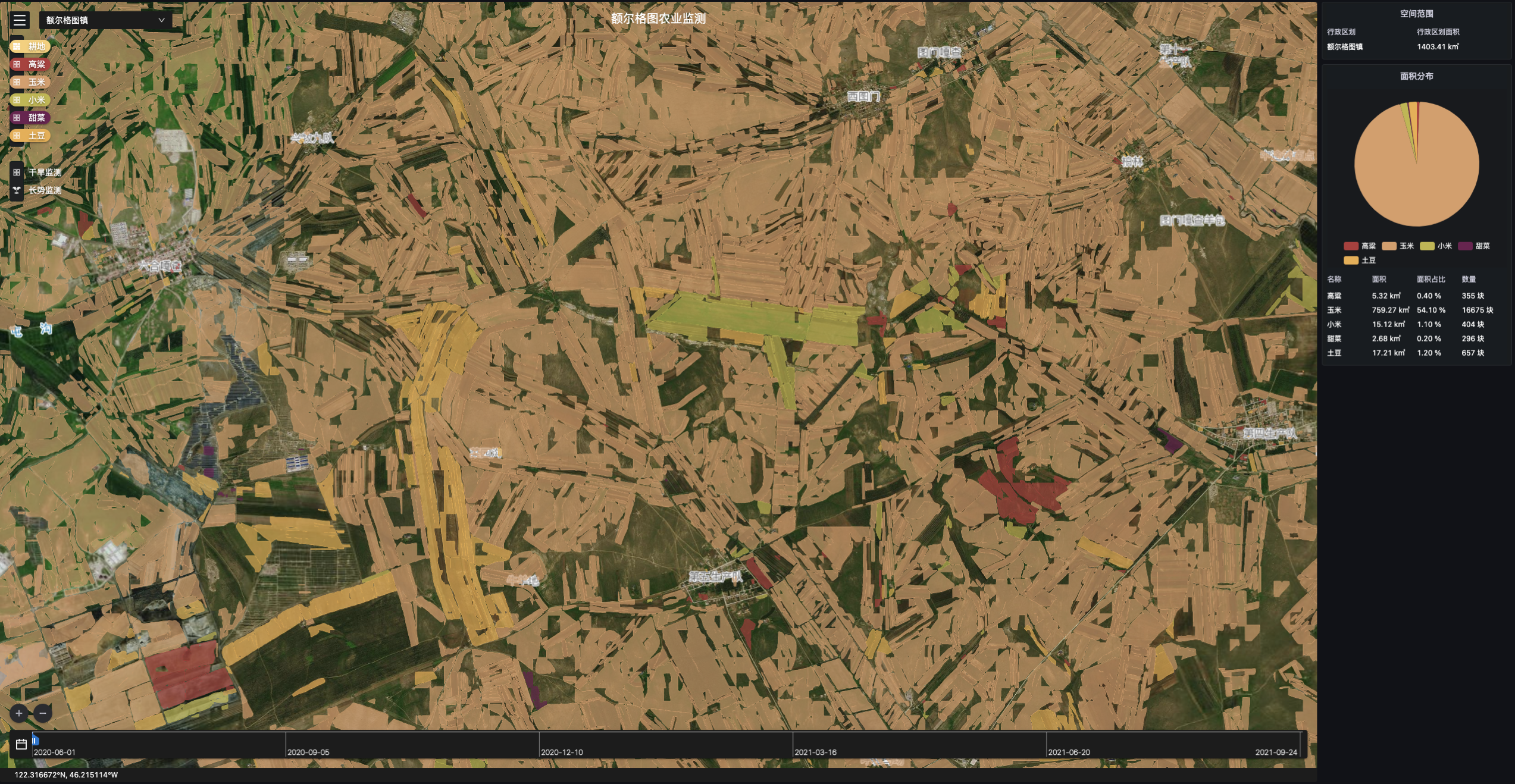 Core Index​
| Technical Index | Data |
| --- | --- |
| Data Format | Vector |
| Attribute Information | Spot Area. Spot ID. Crop Type |
| Spatial Resolution | Max: 0.5m, Standard: 10m |
| Time Resolution | Service At Request |
| Servicable Area | Global |
| Service Mode | SDK, SaaS, WMTS |
| Main Data Source | TerraQuanta Multi-source Spectrum Input (TMSI) |
Facility Agriculture (Greenhouse) Identification​
Core Index​
| Technical Index | Data |
| --- | --- |
| Data Format | Vector |
| Spatial Resolution | Max: 0.5m, Standard: 10m |
| Time Resolution | Service At Request |
| Servicable Area | Global |
| Service Mode | SDK, SaaS, WMTS |
| Main Data Source | TerraQuanta Multi-source Spectrum Input (TMSI) |
Crop Planting Monitoring​
Core Index​
| Technical Index | Data |
| --- | --- |
| Data Format | Raster, Vector |
| Spatial Resolution | Max: 0.5m, Standard: 10m |
| Time Resolution | Each Planting Season |
| Servicable Area | Global |
| Service Mode | SDK, SaaS, WMTS |
| Main Data Source | TerraQuanta Multi-source Spectrum Input (TMSI) |
Crop Growth Monitoring​
Core Index​
| Technical Index | Data |
| --- | --- |
| Data Format | Raster, Vector |
| Spatial Resolution | Max: 0.5m, Standard: 10m |
| Time Resolution | 3~5 Days |
| Servicable Area | Global |
| Service Mode | SDK, SaaS, WMTS |
| Main Data Source | TerraQuanta Multi-source Spectrum Input (TMSI) |
Crop Drought Monitoring​
Core Index​
| Technical Index | Data |
| --- | --- |
| Data Format | Vector |
| Spatial Resolution | Max: 0.5m, Standard: 10m |
| Time Resolution | 3~5 Days |
| Servicable Area | Global |
| Service Mode | SDK, SaaS, WMTS |
| Main Data Source | TerraQuanta Multi-source Spectrum Input (TMSI) |
Precipitation and Accumulated Precipitation Monitoring​
Core Index​
| Technical Index | Data |
| --- | --- |
| Data Format | Raster |
| Spatial Resolution | 10km |
| Time Resolution | 1 Day |
| Servicable Area | Global |
| Service Mode | SDK, SaaS, WMTS |
| Main Data Source | TerraQuanta Multi-source Meteorological Input(TMMI) |
Temperature and Accumulated Temperature Monitoring​
Core Index​
| Technical Index | Data |
| --- | --- |
| Data Format | Raster |
| Spatial Resolution | Greater than 50km |
| Time Resolution | 1 Day |
| Servicable Area | Global |
| Service Mode | SDK, SaaS, WMTS |
| Main Data Source | TerraQuanta Multi-source Meteorological Input (TMMI) |
Monitoring of the Disaster-affected Areas of Crops​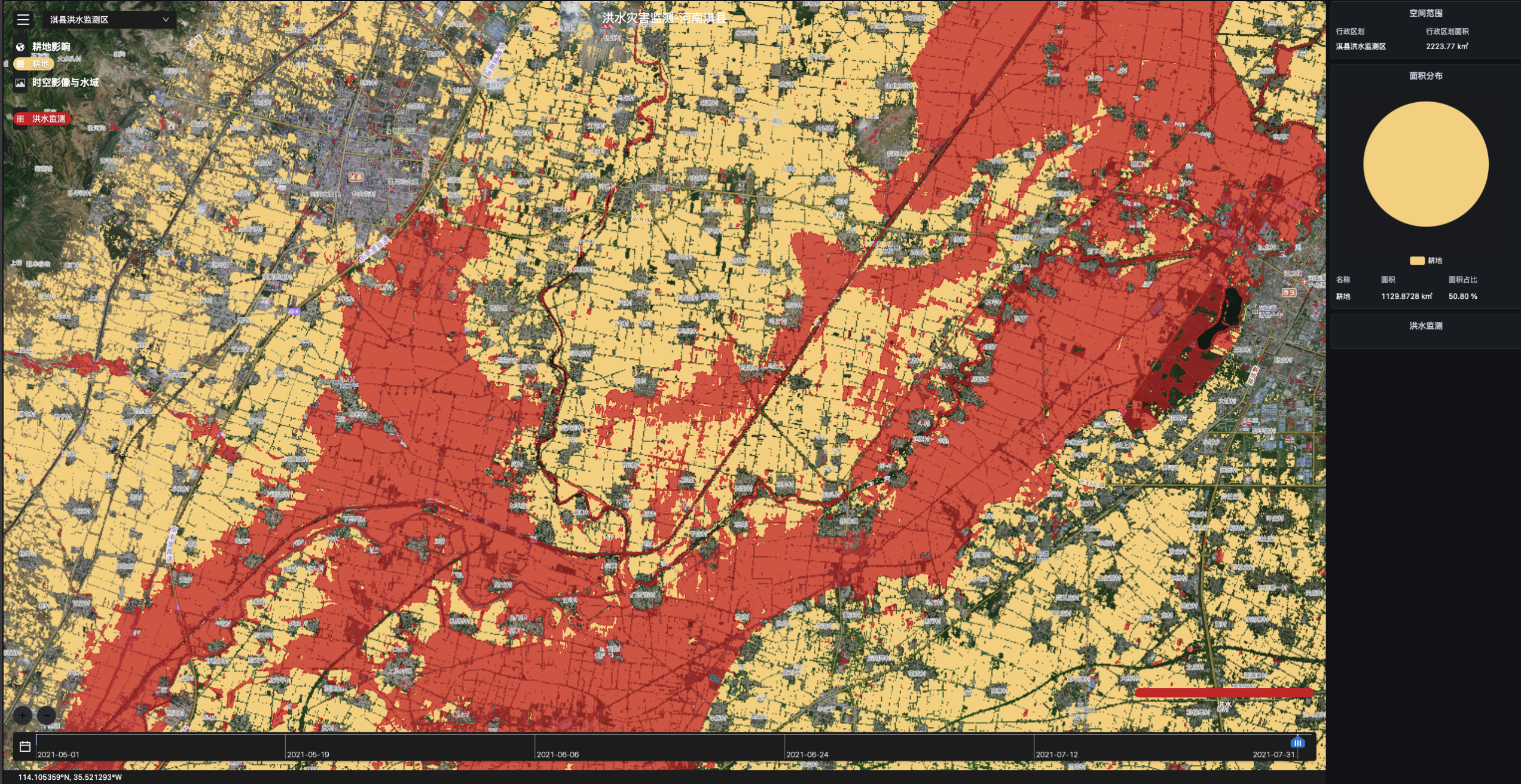 Core Index​
| Technical Index | Data |
| --- | --- |
| Data Format | Raster, Vector |
| Spatial Resolution | Max: 0.5m, Standard: 10m |
| Time Resolution | Service At Request |
| Servicable Area | Global |
| Service Mode | SDK, SaaS, WMTS |
| Main Data Source | TerraQuanta Multi-source Spectrum Input (TMSI) |
Assessment of Crop Loss​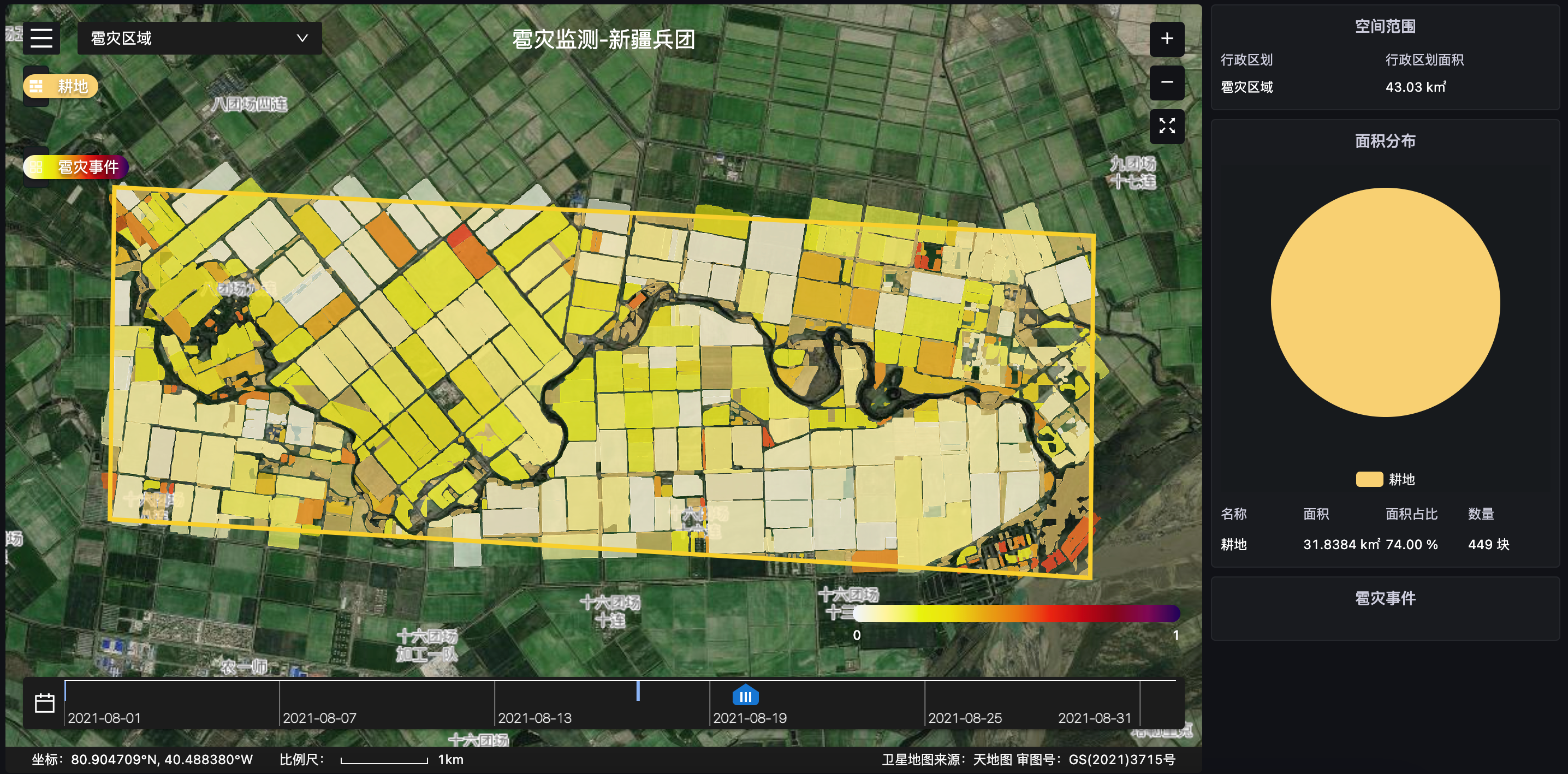 Core Index​
| Technical Index | Data |
| --- | --- |
| Data Format | Vector |
| Spatial Resolution | Max: 0.5m, Standard: 10m |
| Time Resolution | Service At Request |
| Servicable Area | Global |
| Service Mode | SDK, SaaS, WMTS |
| Main Data Source | TerraQuanta Multi-source Spectrum Input (TMSI) |